This article about migrating to a CentOS 7 /8 RAID mdadm array has a lot of info but I wanted to focus specifically on what newer versions of CentOS 7 require to boot mdadm and what changes are necessary on CentOS 7.8+
CentOS 7 / 8 mdadm RAID booting requirements
This assumes you are chrooting into an existing install or using it to get a new deployment ready. However, these steps can fix existing mdadm installs that don't boot properly either (but you'll want to boot either into rescue or a Live environment and then chroot).
Check this if you need to learn how to chroot into your OS
1.) Install mdadm:
yum -y install mdadm
2.) Edit /etc/default grub like this
Without rd.auto=1 you will find that it won't be able to boot or assemble your RAID array.
Edit the GRUB_CMDLINE_LINUX line and add:
rd.auto=1

3.) Update your grub.cfg file
grub2-mkconfig -o /boot/efi/EFI/redhat/grub.cfg
4.) Update your /etc/dracut.conf
Update your dracut.conf as this is critical for new kernels that you install, otherwise the initramfs will not contain mdraid and your array will be inaccessible. You'll forget long after this, until you find your server can't boot after a kernel update!
Just uncomment and enable the "add_dracutmodules" to be like below:
add_dracutmodules+="mdraid"

5.) Update the existing initramfs files
You'll want to do this otherwise the initramfs is missing the mdadm kernel module, so your array won't be accessible and boot will fail.
For each initramfs in /boot you'll want to do this:
*Change the name of initramfs to match yours
dracut --add="mdraid" /boot/initramfs-3.10.0-1127.13.1.el7.x86_64.img 3.10.0-1127.13.1.el7.x86_64 --force
Notice that after the initramfs full name, you need to take the full kernel name and place it, which in the example above was "3.10.0-1127.13.1.el7.x86_64" this is critical as if you miss the kernel name, it will create but just won't work and you'll still be unable to boot.

If you've done something wrong configuring your CentOS 7 8 mdadm RAID array you'll see something like this when you boot:
Warning: /dev/disk/by-uuid/ does not exist
Entering emergency mode.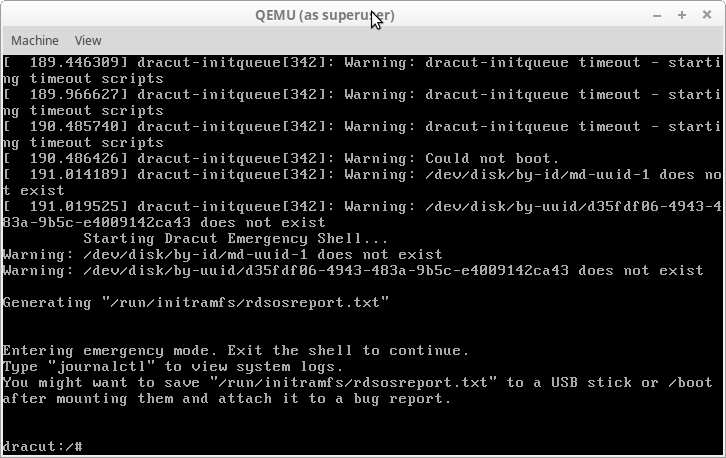 Tags:
centos, mdadm, raid, array, solutionthis, migrating, info, newer, versions, booting, requirements, assumes, chrooting, existing, install, deployment, installs, ll, chroot, os, yum, edit, etc, default, grub, rd, auto, assemble, grub_cmdline_linux, update, cfg, mkconfig, efi, redhat, dracut, conf, kernels, initramfs, contain, mdraid, inaccessible, server, kernel, uncomment, enable, quot, add_dracutmodules, updates, module, accessible, _, img, unable, ve, configuring, dev, disk, uuid, mode,