These are the only two I've encountered but here is the low-end and note my story is not at all unique.
In my case I was scammed out of money and did not receive any service at all from either company.
Santrex Review/Scam/Complaint
Santrex never provided any working server, I believe it was just a dummy management Solus server because the server said it was booted but never connected to the console. I complained to them and eventually the support admitted the server was not working and to wait for 24 hours. I waited for 4-days, after which they sent an e-mail saying my service was being disabled for SPAM ...(when SolusVM shows 0kb of traffic). They aren't fazed by threats since their reputation couldn't get any worse. They escalated the PayPal dispute after we provided our evidence and screenshots, along with proof that this case is not unique.
Santrex is widely known as not only a company that does not provide what the customer asks, but when they do provide something it is often out of spec or an extremely poor and unreliable service with fees being stolen due to phony TOS violations.
I thought I'd add it's ironic that they make up phony TOS SPAM notices to steal money and yet they are actually SPAMMERS themselves (if you use RBL's you'll probably find their e-mails blocked):

	*  2.5 URIBL_SBL Contains an URL listed in the SBL blocklist
	*      [URIs: santrex.net]

Here are links to Santrex complaints/reviews/scams that tell a similar story about Santrex:
www.thedave.ca/geek/santrex-net-worst-hosting-company-on-the-planet/comment-page-1/#comment-2350
www.web-hosting-top.com/web-hosting/web-hosting-top.santrex.net/
www.blackhatworld.com/blackhat-seo/shit-list/246599-santrex-webhosting-epic-fail-avoid-all-costs.html
www.freeindex.co.uk/profile%28santrex-internet-services%29_77491.htm
forums.digitalpoint.com/showthread.php
Report Santrex to the local UK government by filling out this simple form (eventually they will be shut down if we all complain):
http://www.tradingstandards.gov.uk/towerhamlets/complain.htm
Santrex Scam Proof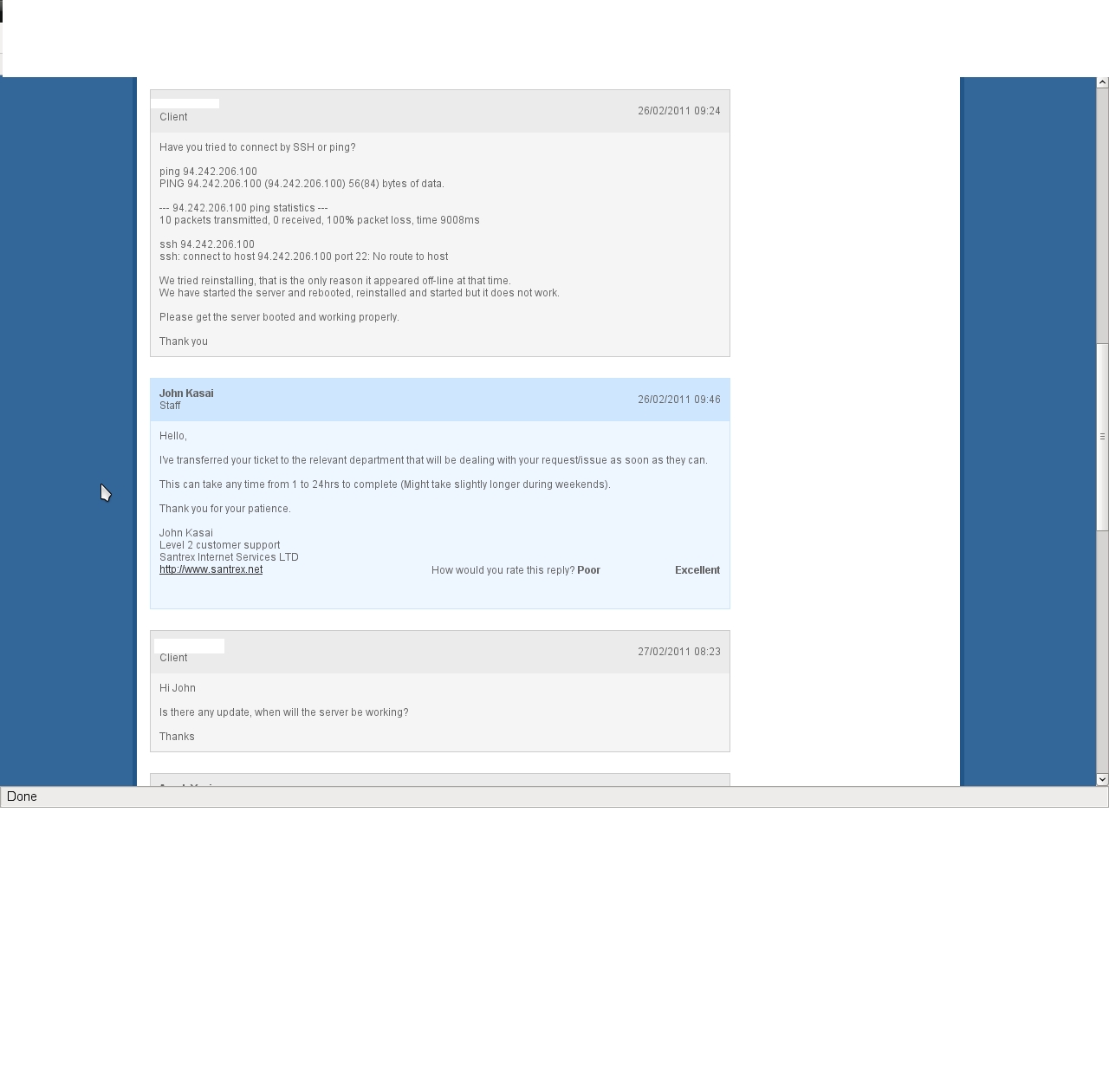 Virpus Review/Scam/Complaint
Virpus is advertised on LEB (lowendbox.com) and when I reported on LEB BLOG posts that I was scammed the comments were never approved (I tried several times). This calls into serious question the trustworthiness of LEB when they seem to pick and choose what company they will call-out, and when they facilitate a company like Virpus. My initial payment was refunded after days of not receiving the VPS, but a subscrption payment went through. They ignored the requests in the ticket and by e-mail for a refund and even escalated the PayPal dispute that "we're assuming this is for a service that was provided" (when they obviously know otherwise by their own system).
Virpus is known to take money from customers by also falsely claiming TOS violations, and aside from that is known to lose customer data and be extremely unreliable.
Virpus Networks Scam Proof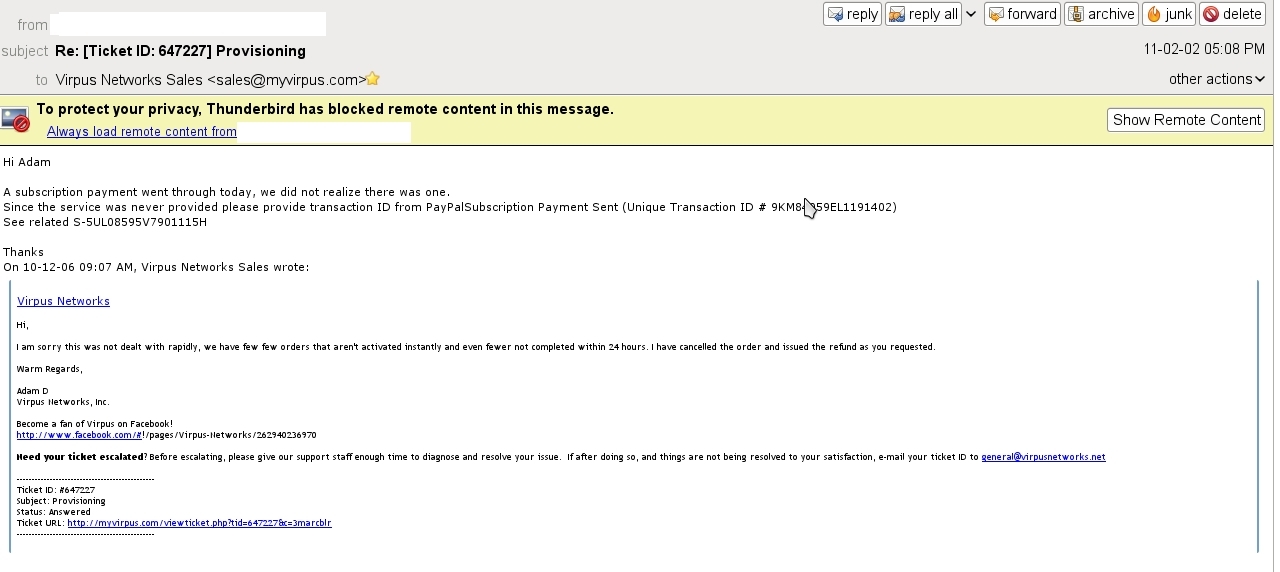 Links to Virpus complaints/reviews/scams:
www.blackhatworld.com/blackhat-seo/shit-list/257359-virpus-scammed-me-proof-scam-method-inside.html
Out of the dozens of providers I've tried, those two companies are the only ones who actually stole from me, and are also the only ones known to provide such poor and unreliable service, it seems the two go together.
Tags:
vps, server, complaint, listthese, ve, encountered, scammed, santrex, provided, dummy, solus, booted, console, complained, disabled, spam, solusvm, kb, aren, fazed, couldn, escalated, paypal, dispute, screenshots, widely, spec, unreliable, fees, tos, violations, notices, spammers, rbl, ll, mails, blocked, uribl_sbl, contains, url, listed, sbl, blocklist, uris, links, complaints, reviews, scams, www, thedave, ca, geek, hosting, blackhatworld, blackhat, seo, webhosting, epic, html, freeindex, uk, _, htm, forums, digitalpoint, showthread, php, http, tradingstandards, gov, towerhamlets, virpus, advertised, leb, lowendbox, reported, blog, posts, comments, approved, trustworthiness, facilitate, initial, refunded, receiving, subscrption, ignored, requests, refund, quot, falsely, claiming, networks, method, dozens, providers,