Datacenters, Cloud, VPS and Dedicated Servers in Hong Kong are ping neutral to the world and rest of Asia
This article is the best guide on the internet for all things Hong Kong internet and how it applies to your business, based on decades of experience and research, to help you make informed choices, for your company's strategic data and computing initiatives in Asia Pacific, Southeast Asia and beyond.
Hong Kong has long held the staus as a world financial hub, but in our opinion, it is lesser known for its dominance as an IT and Internet Hub and has the largest internet exchange in Asia by maximum throughput. This is because Hong Kong has less than 60ms ping to most major destinations in Asia, including the Southeast, whether Korea, Japan, Singapore, Malaysia, or Thailand etc..
Hong Kong also has direct connectivity to internet exchanges across the world, including Asia, Europe, North America and the MIddle East.
We will also compare the viability of Singapore vs Hong Kong Datacenters since both have many similarities in terms of international appeal, recognition and economic output.
We hope this helps you choose your Dedicated, Cloud and VPS Server Packages from Hong Kong.
Thanks/Credits:

Why Choose Hong Kong To Host Your Cloud/VPS/Dedicated Server and IT Application Data?
Here are our top reasons to choose Hong Kong and why we believe it is #1.
When choosing the ideal location for your business, you want to choose a location that is both physical safe, stable and politically and economically stable. Neither are optional as either can pose an existential and present and clear danger to your business, IT infrastructure and your valuable data and applications.
A big portion of other analysis on the internet tends to revolve around a country and its democratic laws. We argue that in theory this is important, but in practice and reality, often irrelevant. A country can be democratic and have the strongest privacy laws that are routinely subverted by big tech and foreign countries, as is the case for the majority, if not all of the other countries that are recommended as safe places to store your data.
It is also important not to keep all of your eggs in one basket and to geographically diversify your IT assets for continuity, reliablity and geographic performance.
Hong Kong is Politically Stable and Resilient
Hong Kong is Economically Powerful and Stable
Hong Kong is Geographically Ideal and Stable
Hong Kong is Internet Ideal in Asia
Why Not Other Locations?
We don't mean to say there are no other worthy places to place your data in the world, but we believe in Hong Kong based on the top reasons above.
There are many reports that suggest a number of countries in Europe, such as Switzerland, Romania, Luxembourg, Netherlands, Norway and Iceland, are some of the top safest places to host and store your data and applications.
Usual reasons that are flouted are that "ABC country has strong privacy and data protection laws". While this may be true, one example we are will look at, are how fast laws can change and how fast the strongest laws can be rendered useless, in practice.
Switzerland Lost Its Banking Privacy, How About Data Privacy?
A good example is actually one of the recommended countries to store your data, Switzerland. Switzerland was formerly a banking safe heaven and was known for strict privacy of its banking industry. However, in 2014, it signed a convention that pledged to automatically share banking information with foreign countries and effectively ended the safe haven of Swiss Banks and Privacy, which was enacted in 2017.
If Switzerland can toss out the strong protections in banking privacy overnight, why can't it do the same with your data? The answer is that small countries in Europe are simply not strong or powerful enough, to resist the will of FATCA bills passed in the US and other larger, more powerful nations. We argue that Hong Kong is able to fend off large nations from prying into your data, and rather than sign on to FATCA, Hong Kong opted to essentially lockout any potentially impacted clients or activities out of their banking system (mainly US citizens), to keep Hong Kong's status as a safe and secure, financial hub.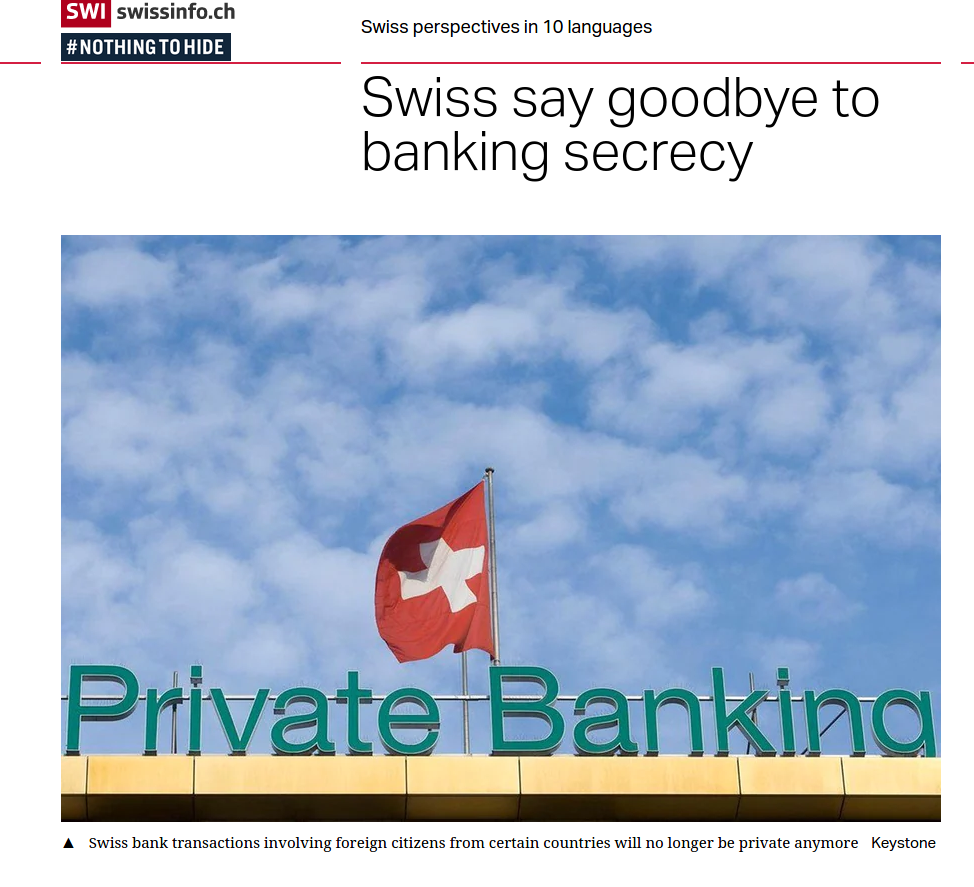 https://www.swissinfo.ch/eng/business/tax-evasion_swiss-say-goodbye-to-banking-secrecy-/42799134
Europol had Switzerland/Swiss Servers Seized:
This is just one example and many cases are not reported in the media, but it is an established fact that Europol was able to seize and takedown websites and servers:

Netherlands, Germany, the United Kingdom, Canada, the United States, Sweden, Italy, Bulgaria, and Switzerland, along with coordination from Europol and Eurojust.
If you host data or have a company in Europe, regardless of any data protection laws, your data can be seized without any chance for you to oppose or halt the action, once it reaches Europol, regardless of whether you or your client are guilty of anything. It could be that your server in Europe was hacked and used for illegal activity, yet once Europol is involved, it is no longer relevant if you are guilty, since your data and servers will be seized just the same.
This also doesn't take into consideration the considerable influence that the US holds over Europe and its ability to have Europol and authorities in European countries do its bidding. You need to host in a jurisdiction that isn't politically or economically vulnerable to a larger entity and very few countries in the world will be able to fall into this category.
https://blog.malwarebytes.com/cybercrime/2021/06/police-seize-doublevpn-data-servers-and-domain/
Singapore vs Hong Kong Datacenter VPS/Server Comparison
Singapore is a great location to host your data but as we will explain later, we don't feel it is as ideal of geographical location as Hong Kong in terms of ping/routing, geography, climate and politically.
Similar to Switzerland, although politically different, Singapore is a strong and independent country, but still enjoys reasonably close ties to the US, which is a strong distinction between Hong Kong. Hong Kong has the protection of the People's Republic of China behind it.
Besides the above, there are other distinct geographic advantages that Hong Kong has over Singapore.
Singapore is smaller than Hong Kong
Singapore has an area of just 733.1 square kilometers vs Hong Kong's 2754.97 square kilometers, it is nearly 4 times larger (not that Hong Kong is large by any stretch!), but it may explain the situation we will discuss further down.
https://en.wikipedia.org/wiki/Singapore
https://en.wikipedia.org/wiki/Hong_Kong
Singapore Typhoons in the Future?
Singapore is not known for typhoons, like Hong Kong is but it is believed that climate change may change this as in 2001 the first Typhoon (Vamei) passed through just north of Singapore and caused major flooding.
Singapore Sinking/Sea Level Rise
Singapore is a low lying island and one of Singapore's largest risks is sea level rise, as most of Singapore is just 15 meters above sea level, and 30% being just over 5 meters above sea-level.
https://www.nccs.gov.sg/singapores-climate-action/impact-of-climate-change-in-singapore/
Whereas Hong Kong's average level above the sea is twice as high at 30M:
https://www.planetware.com/hong-kong-tourism-vacations-hk.htm
Heat Comparison betweeen Hong Kong and Singapore IDCs (Datacenters)
Singapore has an average heat of around 26 degrees, while Hong Kong has a yearly average of about 23.5 degrees. This does not sound like a huge difference, but significantly impacts the power and cooling required for datacenters to operate efficiently and safely.
https://www.holiday-weather.com/singapore/averages#chart-head-temperature
https://www.holiday-weather.com/hong_kong/averages
Singapore Halts New Datacenter Builds
Here are some quotes that sum up the reason why, but in summary, it is because Singapore is a smaller nation with land and power constraints that must be resolved before further datacenter space can be opened.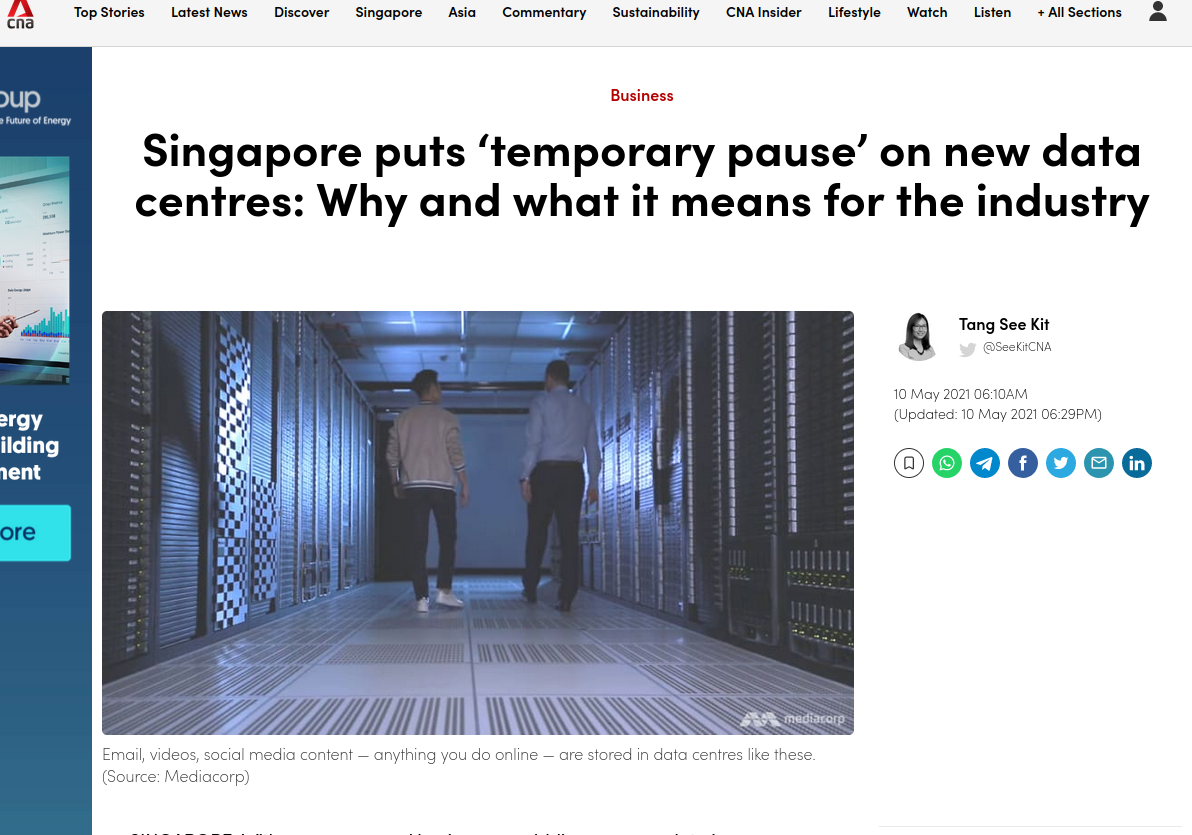 Industry experts told CNA that the Government's decision comes as no surprise, given the country's land and power constraints.
"Singapore is a relatively smaller city-country, when compared to the other tier-1 markets such as Tokyo, Sydney and Hong Kong. Yet we come in second in terms of IT capacity," said Ms Lim ChinYee, senior director of Asia-Pacific data centre solutions at CBRE.
https://www.channelnewsasia.com/business/new-data-centres-singapore-temporary-pause-climate-change-1355246
Where is Hong Kong Located and why is it Ideal?
HongKong SAR (Special Administrative Region) is located in the Pearl River Delta region south of China's Guangdong Province. Hong Kong is located in the heart of Asia, and is sometimes also regarded as being part of Southeast Asia, based on its geographic location.
It is ideal because of the geography, it is practically the center of Asia in terms of routing and even physical location. In terms of being Asia, it is neutral to all locations with all of Asia around it with Mainland China to the Northern Border.
The ping times to all the other major areas of Asia or quite neutral with Singapore being on average 36 ms, Korea about 48ms and Japan about 55 ms.
In terms of threats from the environment, there are very few. Contrary to popular belief, Hong Kong is NOT in the ring of fire and is not prone to earthquakes at all, unlike locations like Japan, Indonesia, Philippines, and Taiwan etc..
The most predictable and frequent geographical events are related to the climate, which are seasonal typhoons. However, they do not cause disruption to datacenter activities, as they are not severe enough. Hong Kong's infrastructure from its internet, power and physical buildings are all built to withstand this known event.
Hong Kong is a geographically ideal place and is ping neutral to the rest of Asia and is safe from geographic weather events.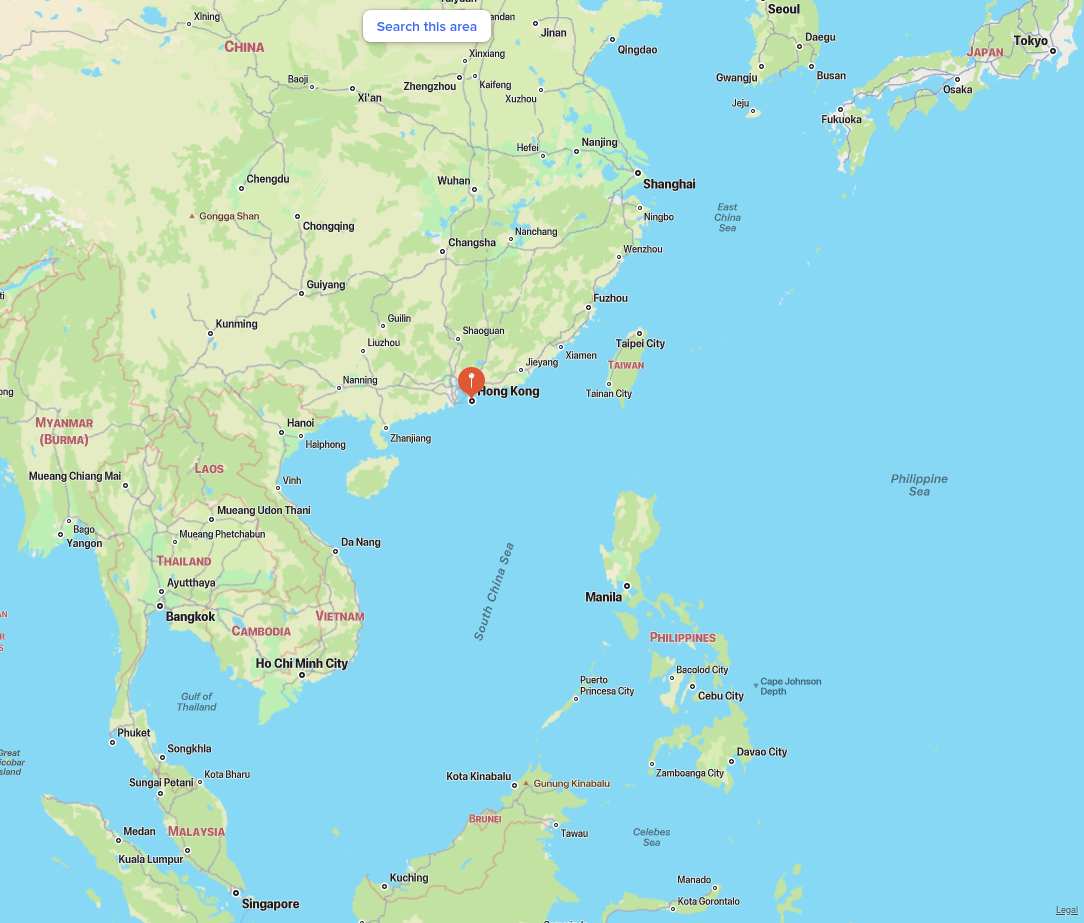 Hong Kong VPS Dedicated Servers Ping Times
Based on Techrich's Hong Kong VPS and Dedicated Server Ping times, we can see that Hong Kong becomes a very ping neutral center of Asia. All major destinations in Asia are generally in less than 60ms from Hong Kong.
These ping times are provided courtesy of local Hong Kong Cloud VPS and Dedicated Server Provider, Techrich Corporation:
Hong Kong To Singapore 36ms:
Hong Kong To Japan 57ms:

Hong Kong to Mainland, China (PRC) 9ms:


Hong Kong to Korea 48ms (Seoul):

Hong Kong to United Arab Emirates (Dubai, UAE):

Hong Kong to Thailand 56ms:
Popular Foreign Hong Kong Cloud Providers
One of the easiest ways to get going in Hong Kong is to use a foreign Cloud Provider with servers inside Hong Kong.
Some of the most popular foreign Cloud Providers in Hong Kong include:
Tencent Cloud Hong Kong
Alibaba Cloud Hong Kong
Google Cloud (GCP) Hong Kong data center
Amazon AWS/EC2 Hong Kong
Why you should avoid foreign Hong Kong Cloud Providers
Foreign Hong Kong VPS Cloud Hosting Providers are always under the control and jurisdiction of governments outside of Hong Kong. For example Tencent and Alibaba are under the jurisdiction of Mainland China.
Of greatest concern are the US based Google and Amazon, who are under the jurisdiction of the US government, Patriot Act and is the leading member of the PRISM surveillance network which subverts the security of "Big Tech" and compels through direct and indirect methods, to violate the security and privacy of those users.
In other words, if you are choosing a foreign provider in Hong Kong, you lose most of the safety, security and privacy of Hong Kong as foreign companies will hand over your data based on pressure or legal orders that are made in the country of registration (eg. Amazon being a US based company, can be forced to hand over your data due to authorities in the US and is subject to the same backdoor access that big tech companies in the US are obliged to offer).
Hong Kong's Status As Largest Internet Hub in Asia
https://www.hkix.net/hkix/whatishkix.htm
Hong Kong is widely recognized as one of the largest, if not, the largest internet exchanges in Asia.
When comparing by maximum throughput, Hong Kong is the largest Internet Exchange in Asia.
| | |
| --- | --- |
| IX (Internet Exchange) | Maximum Throughput (Gbit/s) |
| HKIX (Hong Kong) | 2259 |
| SGIX (Singapore) | 1060 |
| Japan (JPNAP) Osaka + Tokyo | 2120 |
| Korea (KINX) | 280 |

https://en.wikipedia.org/wiki/List_of_Internet_exchange_points_by_size

Hong Kong has the Power!
Hong Kong's World-Class Power
Hong Kong has two power companies, CLP Power and HK Electric, both of which are independent and are even generator backed and work together to supply the other in the event that one has a failure. Not only that, it is possible obtain power from both power companies and connect to diverse substations and diverse power feeds, for truly redundant power.
Even better is the fact that both power providers have delivered a historical power reliability of 99.999%. Hong Kong truly has one of the best world's power infrastructures and is in no short supply or at risk of blackouts that have occurred in many countries.
Both companies also have the option of bringing in extra power right across the border from Mainland China in the event of an unforseen emergency at both power companies.
Hong Kong is also in no short supply of power and even has shares in power plants on the Chinese Mainland.
https://www.datacentre.gov.hk/en/powersupply.html
https://en.wikipedia.org/wiki/Electricity_sector_in_Hong_Kong
ICP License For Website Hosting Is NOT Required in Hong Kong for VPS or Dedicated Cloud Servers
The ICP (Internet Content Provider) license is something that is ONLY required in Mainland China, since Hong Kong is a politically and economically separate, autonomous city. This is also further proven by the fact that Hong Kong Internet is completely different and separate from the Mainland's. As such, the rules and regulations for Hong Kong's internet ICT industry, are wide open and without restriction or regulations that the Mainland requires.
Whether you have a Cloud Server, Traditonal VPS, or Dedicated Server in Hong Kong, there is no requirement to have an ICP license. The benefit of this situation is that Hong Kong has direct connectivity to Mainland China. In terms of internet routing with China, Hong Kong's latency to Mainland is as if you are in Shenzhen, Guangdong Province of China.
However, it is important to understand that to have direct connectivity you have MUST have a provider who has a network that has special and specific routing and peering with China Telecom, China Unicom and China Mobile, to enjoy the low pings to the Mainland. The bandwidth between Hong Kong and China is some of the most expensive and in demand in the world, partially owing to the open internet that Hong Kong has and the fact that it can provide an internet experience that is nearly the same as being hosted in the Chinese Mainland.
This means that even if you don't want to enter the Chinese market directly by setting up a business and obtaining an ICP in the Mainland, you can still access this audience by hosting your VPS, Cloud or Dedicated Servers with a Hong Kong Server Provider who has a network optimized for China.
Hong Kong Server Provider Network Comparison
Aside from privacy and security issues with choosing a foreign server provider in Hong Kong, it is important that you choose a company that has a network that is optimized. You can see an example below that Techrich's ping test is 30x faster than HE to Mainland China and Techrich is 45% faster to the UAE. This same pattern will emerge for many other locations, as it takes premium routing and bandwidth to get the best speeds and performance.
The average Hong Kong provider is not optimized for anything but within Hong Kong (as is very similar to internet services within China) and other areas of the world.
For example, a popular network provider HE and Cogent are active in Hong Kong, but they have no direct connectivity to Mainland China. If you use one of these providers, you will find that the traffic actually goes from Hong Kong all the way to California, USA (normally San Jose or LA) and then goes back through China Telecom or Unicom in California, all the way to Mainland China. This is of course highly inefficient to send traffic half way around the world and back, when you could go direct.
We do not mean to say HE.net is the only foreign network in Hong Kong to have this problem and it is also important to note that both local Hong Kong and foreign Hong Kong providers, may use ISPs like HE.net too. It is critical to choose the best network in Hong Kong and preferably a provider that has optimized routing that providers like HE and Cogent cannot do from Hong Kong.
HE.net is useful if latency and throughput is not important and if you are on an extreme budget.
Take HE's ping from Hong Kong to Mainland China and Dubai UAE, vs Techrich's pings:
Note that the comparison is equal because the HE.net test uses the same target IPs as Techrich's tests earlier.
HE.net 209ms to UAE
HE.net 300ms to Mainland China (Shenzhen)

Now compare the screenshots from Techrich to the same IPs which are 117 ms to UAE and 9 ms to China:
Hong Kong, World Financial Center
When comparing 2019 data from the IMF, Hong Kong's GDP was 402 billion while Singapore was 392 billion.
https://worldpopulationreview.com/countries/countries-by-gdp
https://en.wikipedia.org/wiki/Economy_of_Hong_Kong
Hong Kong Financial Opportunities with Japan
At 5.39 Trillion GDP in 2021, Japan is a small but amazing island nation, which is the world's third largest economy and had nearly a greater output than all of Southeast Asia's performance in 2020.
https://en.wikipedia.org/wiki/Economy_of_Japan
Hong Kong Financial Opportunities with Korea
Korea, which is north east of Hong Kong, has an economy of 1.8 trillion (nearly 2 trillion dollars) in 2021, which is amazing for a country of its size.
https://en.wikipedia.org/wiki/Economy_of_South_Korea
Hong Kong Financial Opportunities with Mainland China
The Chinese Mainland, which is the world's second largest economy had a GDP of 17.9 Trillion dollars in 2021. By PPP (Purchasing Power Parity), it has been considered the world's largest economy since 2014.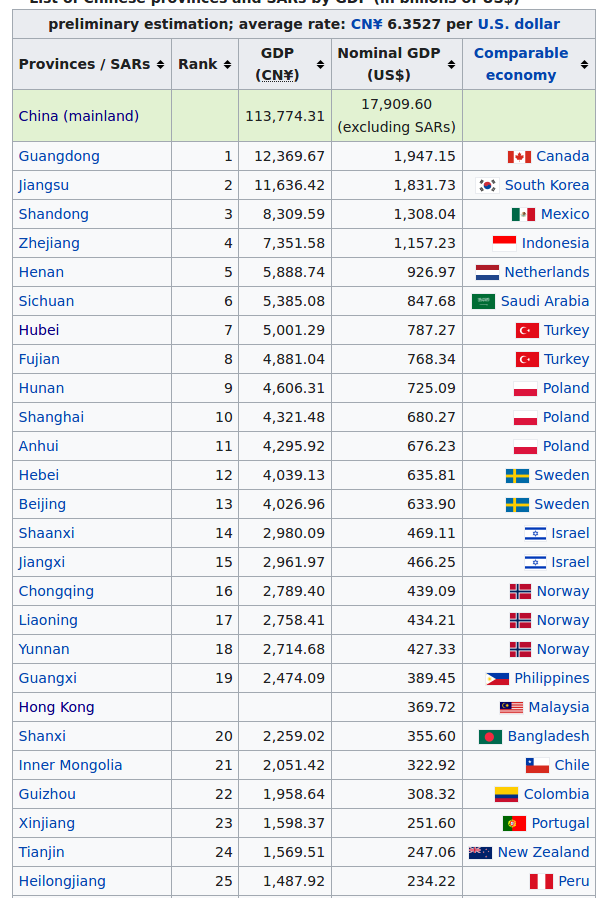 https://en.wikipedia.org/wiki/Economy_of_China#GDP_by_Administrative_Division
Hong Kong Southeast Asia Financial Opportunities
As we can see from the map above, Hong Kong, which is arguably in Southeast Asia itself, is in the neighborhood of powerhouse Southeast Asian markets including Singapore, Thailand, Vietnam, Indonesia, Philippines, Malaysia, Philippines, Laos, Cambodia and Brunei, with a combined GDP of over 3 trillion dollars in 2020 alone.
The GDP alone doesn't tell the whole story, as Southeast Asia has and is projected to continue to be one of the world's largest growing economies and markets.
Source: Wikipedia Southeast Asia
Hong Kong Financial Opportunities with Taiwan
Taiwan is a disputed island that China recognizes as a part of the Mainland, while Taiwan recognizes itself as a separate country known as the Republic of China. Despite the political tensions, Taiwan is a strong economy which produced 759 Billion by GDP in 2021.
https://en.wikipedia.org/wiki/Economy_of_Taiwan
Tags:
hongkong, vps, server, dedicated, datacenter, hong, computingthis, kong, applies, decades, strategic, computing, initiatives, located, sar, administrative, region, pearl, delta, guangdong, province, asia, regarded, southeast, geographic, neutral, locations, mainland, northern, ping, provided, courtesy, provider, techrich, corporation, singapore, japan, prc, korea, seoul, arab, emirates, dubai, uae, comparing, imf, gdp, https, worldpopulationreview, countries, en, wikipedia, org, wiki, economy_of_hong_kong, opportunities, trillion, largest, economy, output, economy_of_japan, economy_of_south_korea, ppp, purchasing, parity, economy_of_china, gdp_by_administrative_division, arguably, powerhouse, asian, markets, thailand, vietnam, indonesia, philippines, malaysia, laos, cambodia, brunei, combined, doesn, projected, economies, taiwan, disputed, recognizes, republic, tensions, produced, economy_of_taiwan, providers, easiest, servers, tencent, alibaba, google, gcp, amazon, aws, ec, hosting, jurisdiction, governments, patriot, prism, subverts, quot, compels, indirect, methods, violate, users, choosing, registration, eg, backdoor, obliged, hub, www, hkix, whatishkix, htm, widely, exchanges, maximum, throughput, ix, gbit, sgix, jpnap, osaka, tokyo, kinx, list_of_internet_exchange_points_by_size, icp, website, content, politically, economically, autonomous, regulations, ict, restriction, requires, traditonal, requirement, connectivity, routing, latency, shenzhen, peering, telecom, unicom, mobile, pings, bandwidth, partially, owing, hosted, obtaining, optimized, cogent, active, jose, inefficient, preferably, vs, ips, screenshots, pccw, kvm, cn, icps, filing, websites, licence, requirements, certificate, hk,